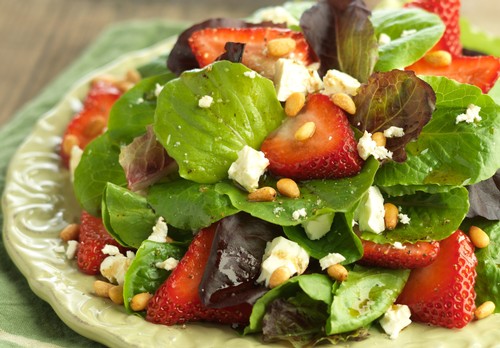 Insalata di pollo alla griglia, fragola e pinoli
(Grilled chicken, strawberry and pine nut salad)
Ingredients:
2 tablespoons balsamic vinegar
6 tablespoons extra-virgin olive oil
2 tablespoons chopped fresh basil leaves, or 2 teaspoons dried basil, crushed
Salt & ground black pepper
4 cups salad greens (I like a mixture of romaine & spinach)
2 cups sliced strawberries
1 ½ cups grilled chicken
Feta cheese
¼ cup pine nuts, toasted (see note below)
Directions:
Whisk vinegar and olive oil in a small bowl. Add basil, and season with salt and pepper. Combine salad greens, and strawberries in large bowl.
Add ½ of the vinaigrette; gently toss to evenly coat. Divide salad between 2 plates. Top each salad with ½ of the grilled chicken, some Feta cheese and an additional drizzle of vinaigrette. Sprinkle each salad with pine nuts.
To toast pine nuts: Preheat oven to 375°F. Spread the pine nuts on a baking sheet and bake 5 to 10 minutes stirring occasionally, until golden-brown.