Wine Awards & Accolades 2021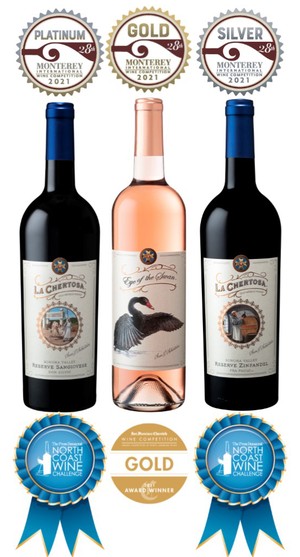 Recently, La Chertosa Wines received the following awards:
Press Democrat North Coast Wine Challenge 2021
Gold Medals awarded to both our 2018 Fra Paolo Reserve Zinfandel and our 2018 Don Silvio Reserve Sangiovese. These two wines are produced with grapes grown in the Sonoma Valley.
Monterey International Wine Competition 2021
Our 2019 Eye of the Swan Aleatico Rosé was awarded its second Gold Medal. This wine won its first Gold Medal earlier this year in the 2021 San Francisco Chronicle Wine Competition.
We were thrilled to hear our 2018 Don Silvio Reserve Sangiovese was awarded a Platinum Medal and 93 points. Wine Writer Rich Cook, who also serves as Director of the competition said, "This wine combines Old World Style with New World ripeness, and it explains why the two worlds can coexist in one glass. Bold acidic structure and notes of sage and dry earth support cherry and blackberry fruit, and the grip in the finish suggests pairing with saucy pasta and meat dishes – it's more than up to the task."
In looking over our latest awards I began wondering just how many medals we actually had won over the years, and I was astonished by the total. Since 2013, we have received the following awards:
4 Double Gold Medals
2 Platinum Awards
11 "Best of" Awards
70 Gold Medals
97 Silver Medals
39 Bronze Medals
223 Total Medals and Awards
Not bad for a "Micro" winery!