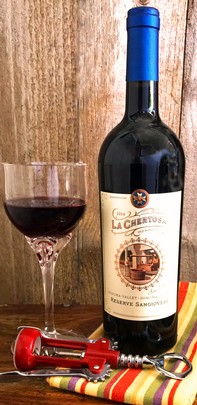 2014 Reserve Sangiovese, Sonoma Valley
Our first Platinum Medal Winner! Also honored with 5 additional Gold Medals + 2 Best of Class/Category Awards!
The 2014 harvest started off with a light frost, but then warmed up nicely. Rains, the limited amount we had, stopped a bit on the early side, leaving the soils somewhat depleted of moisture. Growth started off quickly and vines were shown to be fruitful. Clusters were a bit on the larger side and heavier in weight. This is true for all three varietals.
At veraison there were a few minor heat waves that pushed up sugars. We dropped about 30% of the overall crop, 25% at 80% veraison and another 5% after the second heat wave.
Fruit loads came in rather high, about 25% higher than in 2013. Sugar and acids came in well balanced and in their "normal" time frames, unlike 2015. All fruit was picked at night, into ½ ton micro bins and arrived at the winery around 55F.
In the nose there is a lot of bright red fruit up front, notes of sour cherry, raspberries, dried floral and cherry tomatoes. On the palate I also get more of the sour cherry, thyme cola nut and cedar. Bright acidity with light tannins round out this wine.
Only 95 Cases Produced
AWARDS:
Platinum Medal & Best of Category, 2016 Monterey International Wine Competition
Gold Medal & Best of Class, 2016 Dan Berger International Wine Competition (Formerly Riverside)
Gold Medal, 2016 San Francisco International Wine Competition
Gold Medal, 2016 Denver International Wine Competition
Gold Medal, 2016 Sommelier Challenge International Wine Competition
Wine Specs
Appellation
Sonoma Valley, Sonoma County
Product Reviews
Robert Whitley
(Sep 19, 2023 at 12:07 PM)
Restraint was a common thread through all four wines. Sebastiani, who is the winemaker as well, uses a mixture of old and new oak barrels to age the La Chertosa wines. All show the wood influence without the sometimes overwhelming characteristics that accompany wines made using 100 percent new oak.
The chardonnay was a delight, made in a style I find appealing. It was creamy and smooth without being heavy, and the note of lemon creme to me is a signature aspect of high-quality chardonnay.
The reds were attractive in the same sort of way. Each offered exceptionally fruit purity and definition without crossing the line into fruit jam. The Sangiovese was perhaps my favorite because of its tightness and the tension between acidity and fruit. 93 Points.
Monterey International Wine Competition
(Sep 19, 2023 at 12:13 PM)
Sonoma County legend Sam Sebastiani is having a blast with the La Chertosa label, and he's got a real winner in this return to the roots bottling. Deep cherry, sage, moderate spice, full extraction, supple tannins with good grip throughout, a long finish with great integration - it's all here in spades. I suspect that Sam is as proud of this wine as any that he has made during a storied career. Pick up a bottle and taste the history.