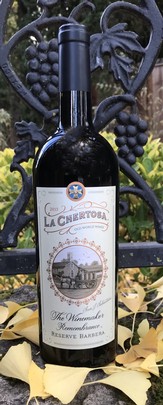 2015 Winemakers Remembrance Reserve Barbera, Amador County
Double Gold Medal Winner!
This wine is in REMEMBRANCE™ of two 19th Century Italian immigrants to California Wine Country.
The first immigrant was Samuele Sebastiani, my grandfather, who learned winemaking at La Chertosa de Farneta – the 14th century monastery near Lucca, Italy. He brought his old world skills to the red-soiled, gently sloping hills of Sonoma Valley in 1898.
The second immigrant was the Barbera grape, planted in the late 1800s to accompany the hearty pasta and stews that were nourishment to thos who worked the vines and the land. Of limited acreage in California, this is a uniquely friendly, bold and robust red wine. Old-Vine, on red-soil grown and oak barrel aged for 18 months, with warm satin edges and deep fruit tones, it is perfect for any meal where the wine needs to stand shoulder to shoulder with the food.
Only 96 Cases Produced
AWARDS:
Double Gold Medal, 2018 Denver International Wine Competition
Gold Medal + Best of Class, 2020 Dan Berger International Wine Competition
Wine Specs
Appellation
Amador County