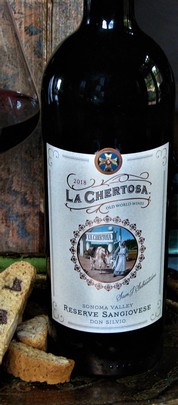 2018 Don Silvio Reserve Sangiovese, Sonoma Valley
A Gold Medal Winner for Five Vintages!
It was over 35 years ago when I first vinified Sangiovese grapes grown in Sonoma Valley. Being one of the first in the valley to make this varietal, I had only the great Sangioveses of Italy to emulate.
Following the lead of the finest producers, I recognized that the red raspberry character, so prominent in many Sangioveses, needs other flavors to complete the mouth-feel.
Into this 2018 Sangiovese, I have blended 15% Sonoma Valley Syrah and 4% Malbec to amp up the fruit character and add depth.
The cooling fog and mineral-rich, red-soils of Sonoma Valley produce a long growing season and fertile environment for Sangiovese. The result is grapes with concentrated varietal flavor and moderate natural acids. 2018 was a very warm year which helped our Sangiovese achieve optimum maturity.
A perennial gold medal winner for five vintages, La Chertosa's Don Silvio Reserve Sangiovese has achieved a special degree of complexity with the 2018 vintage.
This is a full-flavored, palate-warming red with intense fruit, moderate tannins and balanced wood tones. In the bottle, the wine has developed a roundness and elegance that makes it thoroughly enjoyable with food.
The wine will continue to improve for up to two years with bottle aging.
This Reserve Sangiovese salutes my kind Tuscan friend, Farneta Parish Priest, Don Silvio.
AWARDS:
Platinum Medal, Monterey International Wine Competition
Gold Medal, Press Democrat North Coast Challenge
Gold Medal, San Francisco International Wine Competition
Gold Medal, Denver International Wine Competition
Wine Specs
Appellation
Sonoma Valley, Sonoma County
Product Reviews
Cathy Hanson
(May 31, 2020 at 9:34 AM)
Love this wine. One of my all time favorites.
Rich Cook
(Apr 12, 2021 at 8:47 AM)
This wine combines Old World Style with New World ripeness, and it explains why the two worlds can coexist in one glass. Bold acidic structure and notes of sage and dry earth support cherry and blackberry fruit, and the grip in the finish suggests pairing with saucy pasta and meat dishes - it's more than up to the task. A Platinum Award winner at the 2021 Monterey International Wine Competition. 94 Points