Celebrating the many lives of August Sebastiani...
As one of the few heritage based California wine brands, La Chertosa Wines has been mainly featuring in our historical narratives the significance of Sam's grandfather, Samuele Sebastiani.. Beginning with this page, we want to bring into focus and remember the next family patriarch, and Sam's father, August Sebastiani.
These two gentlemen not only shaped La Chertosa Wines through teaching and training Sam, but they helped shape the California wine industry. To help you visualize August's lifetime, here is a sampling of some of the significant events of his life.

Local Sonoma Native:
August David Sebastiani was born on August 1, 1913 to Samuele Sebastiani and Elvira (Eraldi) Sebastiani. As a youngster, he was a Boy Scout and performed with his troop at the 100th Anniversary Celebration of the Sonoma Mission on July 4, 1923.
August played basketball at Sonoma Valley High School, and was elected as President of the Student Body in 1930. He graduated SVHS in June 1931 as part of a class of twenty four students. (This year, almost 300 student graduated from SVHS.)
After attending the University of San Francisco, August Proposed to Sylvia Emily Scarafoni and presented her with a diamond engagement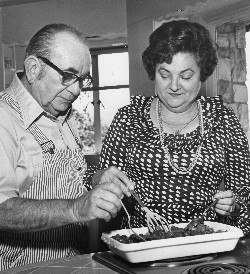 ring on Christmas Eve in 1935.
The couple was married in September 1936. They honeymooned first at Niagara Falls, and next August took Sylvia hunting in Wyoming. According to the October 2, 1936 edition of the Sonoma Index Tribune: "The party was joined in Wyoming by August Sebastiani, who included a trip to the Northwest hunting grounds while on his wedding tour. After young Sebastiani and his bride arrived a guide and pack horses were arranged." (One of our future pages should focus on the patience of Sylvia Sebastiani as August's wife!)
August was an avid fisherman, golfer, hunter and champion at the Sonoma Rodeo held annually at Millerick Ranch (now Larson Winery.) He was a successful cattleman and his brand was (No Kidding!) a wine glass!

Sonoma Supporter and Philanthropist:
As an adult, August was a Boy Scout troop leader and volunteer fireman. He was an active supporter of local sports; and sponsored Little League baseball and adult softball teams for many years. In the 1950's, in an effort to support Sonoma's beautification programs, he awarded annual cash prizes for the best job of residential tree planting in Sonoma.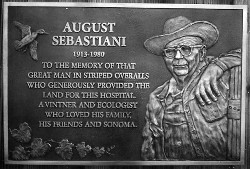 In June of 1950, August chose to honor eight Sonoma Valley boys who gave their lives in the service of their country during World War II. August named streets in the Sebastiani Subdivision dedicated to their memory during an impressive service. The heroes commemorated were Mathieu Andrieux, Robert Banchero, Raymond Barrachi, Gerald Bettencourt, Ross Hayes, Eugene Robinson, and Joseph Vigna. Each street sign, bearing the name of the hero, had been draped. Marching behind the music provided by the Sonoma High School Band, Gold Star parents and friends took their stations at the respective streets, and after the National Anthem was played, the drapes were removed. August later donated eighteen of the lots in the Sebastiani Subdivision for the current location of Sonoma Valley Hospital.

Wine Industry Legend:
August enjoyed joking, "I was born 14 feet from a wine tank." He grew up watching his father, Samuele, survive prohibition by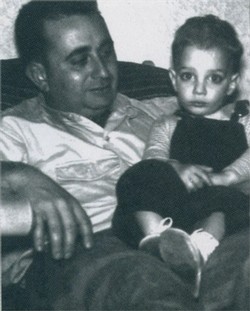 selling sacramental wines and building a cannery to provide employment for local residents. When August took over the winery in 1944, tanker cars filled with Sebastiani-made wine traveled to the East Coast to be bottled by grocers under their labels. Sam remembers, "When I first became aware that there was a winery. I was around five years old then, and my grandfather had passed away about a year before. We lived only about 100 yards from the winery, and the highlight of my week was being able to stay up past 7:00pm to watch the train come to our winery to take our wine to the East. As the train rumbled in, my father would hold me in his arms, because the shaking of the ground scared the heck out of me."
Under August's leadership Sebastiani Vineyards began bottling the first wines labeled as "Sebastiani." In 1954, they sold 155 cases. In the decades that followed, the "Sebastiani" name became known to lovers of wine throughout the United States. Bottling wines with the family name was only one of August's major contributions to Sebastiani Winery's history. While in charge at Sebastiani, August continually expanded production and its product line, he innovated in packaging and marketing by creating half gallon bottles which helped introduce and popularize table wine broadly in the United States.
​
In 1972, Sebastiani Winery scored another coup with its first bottling of a "Nouveau" style wine. A "Nouveau" wine is a young red wine released within weeks after fermentation and offering fresh and fruity flavors. The creation of such a wine is an Old World tradition is followed each year in France. It remained to August and the Sebastiani Family to inaugurate this custom in America.
August was a member of the Wine Institute, a former President of the Sonoma Wine Growers and Vintners Association; and an active member of the Sonoma Valley Chamber of Commerce. He was inducted into the Vintners Hall of Fame in 2010.

Sonoma's "Birdman":
August's birds were a constant source of joy for him. This hobby began at the age of twelve while watching some of Samuele's workmen cut down a tree behind the winery. The tree held a Mourning Dove nest with two babies in it. The workmen frightened the mother away and it fell to August to raise the chicks. Those two dove chicks grew to a collection of over 1,000 exotic and beautiful birds.
August was considered one of the world's foremost rare-bird collectors. His aviaries housed the nation's most complete private dove collection. Additionally were numerous species of ducks, geese and all types of swans. Due to his wild-fowl conservation efforts, the Federal Government presented August with a pair of rare trumpeter swans for safekeeping and breeding at his ranch.
Additionally, in 1973, August was responsible for re-stocking the pond at the San Francisco Palace of Fine Arts after disease destroyed their bird population the previous year.

Artifact and Decoy Collector:
​August began collecting artifacts when he was a boy by picking up arrowheads, mortars and pestles, pipes, tools and other items he discovered while tilling in the family vineyards. In later years, he added many extremely intricate baskets all woven in Sonoma County. His extensive collection of artifacts were eventually housed in what was formerly the old aging cellars at Sebastiani Winery. The collection at the museum included over 1,000 arrowheads, many of which were intricately crafted and designed. There was also a variety of beautiful obsidian knives, sharper than the finest surgical blades, and delicate musical flutes made from animal bones.
In addition to artifacts, August collected and loved duck decoys. All of his decoys were hand-carved wood antiques. "They're not making many of the wooden ones anymore." he said, "Everything is plastic now." His decoy display turned into one of the finest collections in California. In 1974, the decoys were exhibited at Sports and Boat Shows in both San Francisco and Chicago.

Fashion Icon and Trendsetter:
August liked to present the image of a farmer, wearing overalls much of the time, topped off with a straw hat due to a sensitivity to sunlight. His daily routine was to get up with the sun each morning, load the back of his pickup with 200 pounds of grain and head out to feed his birds. Afterward, he would drive his famous pickup to the Lazy D Café (now the Schellville Grill) at the foot of Broadway in Sonoma, where he would socialize with friends, grape growers, farmers and passing truckers.
After August's death in 1980, in the Santa Cruz Sentinel, Jerry Mead wrote, "The August Sebastiani's of the world are bigger than life. It seems they should live forever."

August continues to live on today through his son Sam's work at La Chertosa Wines, his son Don at Don & Sons, his grape-grower daughter, Mary Ann Cuneo, and their numerous off-spring. We hope you've enjoyed remembering (or maybe learning) more about August David Sebastiani, "The King of the Sonoma Wine Industry."