Photogallery rendered here.
June and July 2021
During the month of June, with the frost season behind us and the period of bloom and set recently completed, we begin to have some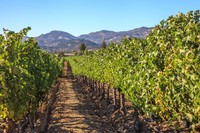 ideas about the harvest we might expect. But it is far too early to make predictions. Special attention is given to our two year-old vines, as we select the strongest cane of each vine and attach it to the stake, while removing other growth. The vineyards are given what amounts to a final grooming, with a careful eye of the appearance of the morning glory, a notorious vineyard weed that can strangle vines, if not kept in check.
Controlling the ecology of the vineyards is utmost. Quite often we apply a light sulfuring of the vineyards to guard against the development of mildew, a common but controllable problem. Insect pests, particularly aphids and leafhoppers, are drawn to the vineyards, and they too can be controlled. Rather than using insecticide sprays, we favor a natural control and release thousands of ladybugs who find such pests to their liking.
In July, the grapes, about the size of a pin in June, have been undergoing their cell division process and are now about half of their expected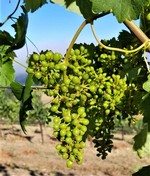 mature size. Our major vineyard chores are completed now, though should we experience an unusual summer rain, an additional sulfur application might be required. New vines, those in their first and second year, are hand-watered and given extra-special attention to insure their well-being.
Much of the human activity switches from the vineyard to our cellar work. The bottling line is once again active since we determined that the Don Silvio Reserve Sangiovese from two years ago, was ready and just bottled.
We are looking forward to watching what happens in the vineyards in the months and weeks before harvest. Every year we can't wait to see what Mother Nature has in store for us in August.
Arnold the Tree
For those of you who do not live in the Sonoma Valley, our story of "Arnold the Tree" may seem odd and unusual. Here is what happened:
In the early morning hours of April 25, Sonoma's iconic little roadside tree, dubbed "Arnold the Tree" by locals who drive past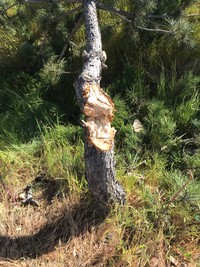 it on Arnold Drive, was destroyed by an unknown vandal equipped with what locals believe was a hand saw and an axe.
In recent years the tree has been quietly embellished with seasonal decorations for Valentine's Day, Halloween, Christmas, Easter, and other holidays. The decorator prefers to remain anonymous. The decorations were festively displayed for the enjoyment of passing drivers. Most residents of the Sonoma Valley drive past Arnold at least once per day.
We don't know who cut the tree or why Arnold was destroyed, but local social media pages were buzzing with the news after the first photos of Arnold's destruction were posted later the same day. Supporters of Arnold expressed their sorrow, anger and disappointment in hundreds of social media comments.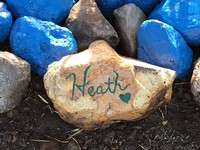 The small, slightly bent pine tree rose to local fame when it was credited with helping lift Sonoma's spirits after the October 2017 wildfires. As we were evacuating the valley, many of us drove past Arnold already decorated with signs expressing our gratitude toward the hundreds of firefighters who saved Sonoma Valley and the surrounding areas. The tree was planted in 2013 as a memorial to Heath Hunter. Heath was killed in October 2012 in a motorcycle accident at the nearby intersection of Watmaugh Road and Arnold Drive.
It took a community wide effort to get a replacement Arnold the Tree replanted. The project was managed by La Chertosa's Business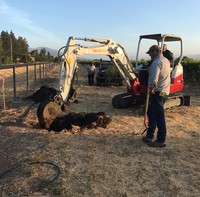 Manager, Jane Schneider. A new tree was donated by Lydia Constantini at Sonoma Mission Gardens, Eddie Robles of Line Locators providing underground utility examination, excavator work was done by Sonoma Native Scott Singleton of Circle S Excavating; site prep, planting and irrigation was completed by Ned Hill of La Prenda Vineyards.
Planting the new tree in the vineyard required "sign-off" by a half dozen regulatory departments and utility companies. A three week delay in the replanting occurred as we were waiting for officials to show up and let everyone know where power lines were, so that the digging and planting could proceed safely on the vineyard side of the fence. We (La Chertosa) said we will give the anonymous tree decorator - who has adorned Arnold the Tree with seasonal decor for several years - safe access to the property to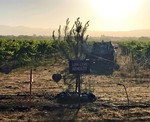 continue decorating Arnold whenever they choose.
In the future, we would love to create a way to allow the public into the vineyard to help decorate Arnold or at least to provide ideas or decorations. We even set up a separate email address for Arnold. He can be reached at sonoma@arnoldthetree.com.
Please take a look at our Awards/Press page for some exciting news for our 2017 Samuele's Quarry Red Blend which is our "Featured Wine" this month. Finally, we have just added a new page to www.lachertosawines.com. Our new Recipes page is still under construction, but now contains several dishes that reflect my heritage and Italian culture. I invite you to try recipes that focus on family, friends and fun.

Tanto Amore!