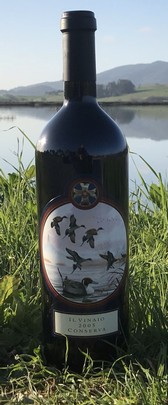 2005 Il Vinaio Conserva Cabernet Sauvignon, Napa Valley
Our First Wine!
Il Vinaio-Conserva is principally Cabernet Sauvignon from Napa Valley with Sangiovese from Amador County and Cabernet Franc from Sonoma Valley. In order to keep the Cabernet Sauvignon from overpowering the palate, the Sangiovese is employed to open the wine and add high notes to the flavor.
My red wines have been fermented "capello sommerso" - meaning that the skins are held under the liquid during the fermentation process. Seemingly this would create an extremely heavy red wine but in fact it creates a super-saturated solution which then stabilizes itself by the sedimentation of the harsher acids and tannins. The result is fullness without burdensome sharper acids and harsher tannins.

Aged in new French Oak with stave wood sourced from the colder French forests. The idea being that the colder forests produce tighter grained wood which imparts its essence more slowly, creating a less overpowering wood to wine balance.

Il Vinaio Conserva™ - This wine is dedicated to those who support conserving (Conserva) our threatened wildlife habitats. It was sourced from some of the most highly-regarded Napa Valley Cabernet Sauvignon vineyards. The principle grape is blended with a small amount of Merlot, Petit Verdot and Cabernet Franc from Sonoma Valley. This wine tastes of red raspberries and boysenberries with a hint of baker's chocolate on the nose. A big bowl of raspberries softly wrapped in tannins for a blueberry finish.
Only 300 Cases Produced
Wine Specs
Varietal
Cabernet Sauvignon