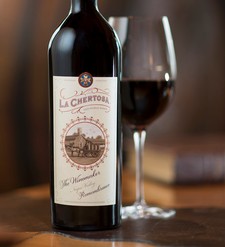 2010 Winemaker Remembrance Cabernet Sauvignon
While learning to cultivate the soils of my family's Sonoma vineyards, I was seeded with stories of my pioneering Italian forebears, tales of risk, of romance and love of wine. My grandfather "Sam" immigrated to the red soils of Sonoma, made wine and began his innovative store-to-store delivery with his horse-drawn barreled-wagon.

Stories of the ancient vineyards in Farneta and the monastic cellars of the Tuscan hills tantalized my imagination, drawing me toward my destiny as a winemaker. More the twenty visits to our family's ancestral village have influenced my winemaking style, fermentation and aging techniques-creating wines of complexity and finesse.

This wine is a tribute in REMEMBRANCE of those who came before me, legends of California winemaking whose accomplishments have influenced and inspired the crafting of my wines.
The Winemaker - Remembrance recalls Samuele's

contributions to California's winemaking history. This

label depicts his deliveries of wine in 1904 from Northern California's oldest vineyard, first

planted in 1825 by the Franciscan Friars of the Sonoma Mission.

Aged in new French Oak with tight grains and medium toast.Napa Valley Cabernet Sauvignon enhanced with Sonoma Valley Sangiovese and Cabernet Franc.

This is Sam's boldest wine.
Only 100 Cases Produced
AWARDS:
Gold Medal, 2016 American Fine Wine Competition
Gold Medal, 2016 San Francisco Chronicle Wine Competition
Gold Medal, 2015 Sunset International Wine Competition
Gold Medal, 2015 San Francisco International Wine Competition
Gold Medal, 2015 Critics Challenge International Wine & Spirits Competition
Gold Medal, 2015 Long Beach Grand Cru Wine Competition
Wine Specs
Varietal
Cabernet Sauvignon