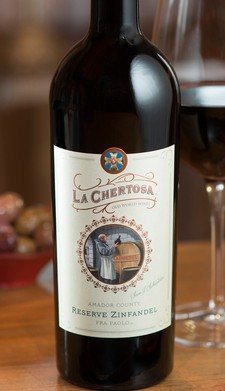 2012 Fra Paolo Reserve Zinfandel
Grapes for La Chertosa's 2012 Reserve Zinfandel are sourced from Shake Ridge Ranch Vineyards. In the hills above Sutter Creek this site of several sloping hillside plantings gives me the opportunity to select Zinfandel from three separate locations (Mendocino, Hearts Desire & Pichetti clones) bringing an inherent expansion of flavors to the wine.
This 80% Zinfandel is blended with 17% Primitivo from Shake Ridge as well as 3% Petite Sirah. The Primitivo brings some lively high notes to the more structured Zinfandel; and Petite Sirah generates a lovely floral tone to the nose and body of this wine.
Wild yeast was used. After fermentation the wine was barreled and stirred with the yeast once a week for seven months.
30% new American Oak and 70% one and two year old barrels completed the barrel array. Barrels are 36 month air dried with toasted heads.
"From Sam Sebastiani comes a satisfying and rich Zinfandel that smells like chocolate, nutmeg, grilled bread and blackberries. It tastes full and fruity, is smooth textured and not very tannic. The spicy oak influence complements the grape flavors and makes a complete package."
Jim Gordon, Wine Enthusiast
"Bright and smooth with bright blackberry, cherry and spice; subtle oak and hints of vanilla; juicy, fresh and balanced; long and lifted."
Wine Spies Tasting Panel
"2012 La Chertosa Shake Ridge Zinfandel: Made by Sam Sebastiani, this was amazing in its intensity of fruit and magnificent balance. Fluid acidity and deftly wound texture made this memorable."
"In 2012, California wine icon Sam Sebastiani chose Amador County and Shake Ridge Ranch as the zinfandel source for his latest project, La Chertosa Wines. With La Chertosa Wines, Sam is thinking small this time (as in "boutique"), producing only 1,200 cases in 2012. (The 2012 La Chertosa Amador County Reserve Zinfandel, not surprisingly, earned a Double Gold and Best of Class at the 2014 California State Fair Wine Competition.)"
Amador Four Fires
AWARDS:
Double Gold Medal + Best of Class of Region + Best Micro Red Winery, 2014 California State Fair Competition
Gold Medal, 2014 Denver International Wine Competition
Gold Medal, 2014 San Diego International Wine Competition
Gold Medal, 2014 Critics Challenge International Wine Competition
Wine Specs
Appellation
Amador County
Product Reviews
Jim Gordon
(Oct 6, 2021 at 11:59 AM)
From Sam Sebastiani comes a satisfying and rich Zinfandel that smells like chocolate, nutmeg, grilled bread and blackberries. It tastes full and fruity, is smooth textured and not very tannic. The spicy oak influence complements the grape flavors and makes a complete package. Jim Gordon, Wine Enthusiast
Anthony Dias Blue
(Oct 6, 2021 at 12:01 PM)
Bright and smooth with bright blackberry, cherry and spice; subtle oak and hints of vanilla; juicy, fresh and balanced; long and lifted. Anthony Dias Blue, Tasting Panel Magazine