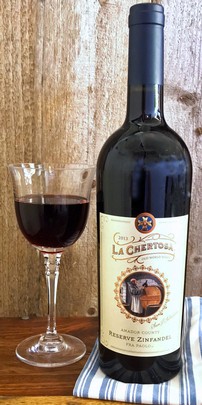 2013 Fra Paolo Reserve Zinfandel, Amador County
Winner of 4 Gold Medals!
La Chertosa Reserve Zinfandel is made from the same vines each year from three separate sites in that same vineyard. We also have a different clone at each of the three sites. The reason for this is to get layers of flavor into the wine created by the site and clonal variations.
We select vineyard sites with red soil because the particular complexities of red soil create a fuller mouth feel. Even with these consistencies each harvest evolves different flavors due to the variations in weather.
Harvest was a bit early from the average starting date, with only a few heat spikes - all in all an excellent growing season.
The blend is 65% 2013 Zinfandel, 30% 2013 Primitivo and 5% 2014 Barbera.
Aging & Barrels: Fermented in open-topped stainless steel fermenters (our design); and aged 17 months in American Oak barrels with stirring of the lees weekly for the first 5 months.
It is important to note that we use a tiered or multi-year barrel aging profile. We purchase for each vintage the equivalent of 1/3 new barrels. The other 2/3's are 1/3 one-year old and 1/3 two-year old barrels. All are American Oak, medium toasted. This gives us another set of layered flavors to enhance the harmonic texture of our wine.
Only 400 Cases Produced
AWARDS:
Gold Medal, 2015 San Francisco International Wine Competition
Gold Medal, 2015 Denver International Wine Competition
Gold Medal, 2015 Grand Harvest Awards
Gold Medal, 2015 Long Beach Grand Cru Wine Competition


Wine Specs
Appellation
Amador County