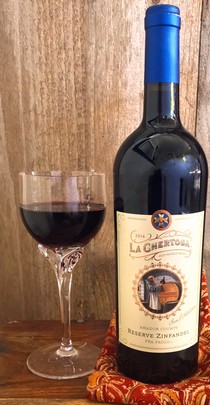 2014 Fra Paolo Reserve Zinfandel, Amador County
4 Gold Medals + Best of Class of Region!
This full-bodied Zinfandel from red-soiled mountain vineyards located in the Mediterranean-like climate of the Shake Ridge Ranch vineyard in Amador County, CA.
I have chosen the Shake Ridge Vineyard site due to its exceptional characteristics. It has been carved out of rocky-loam red soil hillsides, which have good drainage. These vineyards are managed by wonderfully capable owner Ann Kraemer. She has devoted her adult life to becoming one of California's premier vineyard managers. Her experience and knowledge is sought after worldwide.
By selecting different rows in different locations on the property we have created a "field-blend" to start our wines off with an induced complexity. Fermenting them in our own designed fermenters we have developed an exceptional depth of flavor extraction. A wine of silk and satin with ruby depth and red cherry flavor tones, this is truly an exceptional wine.
Fleshy raspberry and red cherry jam or preserve with hints of dill, cedar and cocoa. Moderate acidity and tannin. Medium body. What I really like is how the fruit compote, green pepper and soy integrate into the wine as if moves across the palate.
Only 195 Cases Produced
AWARDS:
Gold Medal & Best of Class of Region, 2017 California State Fair Commercial Wine Competition
Gold Medal, 2017 San Francisco Chronicle Wine Competition
Gold Medal, 2017 Monterey International Wine Competition
Gold Medal, 2016 Denver International Wine Competition
Wine Specs
Appellation
Amador County