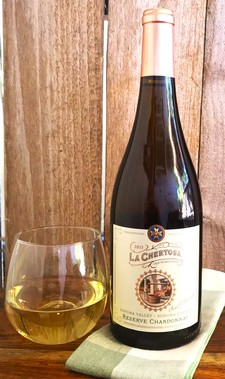 2015 Reserve Chardonnay, Sonoma Valley
The 2015 harvest was from the third year of one of our worst droughts and caused nature to self-regulate the crop by producing smaller berries, smaller and fewer clusters. The result is that the 2015 wines in general will be more intense, deeper and fuller -flavored.
This has made for a wonderful fruit component to balance with the nuances imparted by our select oak barrels. For each harvest, we import an amount of new barrels to approximate one third of our barrel requirement. We have clear parameters and have worked with the same French and Italian coopers for years. But, every tree is different and God changes the growing game for them too. We just try our best to be consistent.
La Chertosa Reserve Chardonnay is grown in the red-soil of Wildwood Vineyards in North Eastern Sonoma Valley. By combining grapes from 3 different sites containing 3 different clones we add a variation of flavors to the palate.
The flavors derived from the malolactic fermentation, which softens the wine by diminishing the malic acid, will develop nicely as the wine ages. At first appearance the wine seems soft and under-developed, but the richness will increase as the bottle aging continues.
The 2015 Reserve Chardonnay features several high notes of crisp apple, buttery oak barrel tones with an extremely varied palate.
Only 680 Cases Produced
Wine Specs
Appellation
Sonoma Valley, Sonoma County