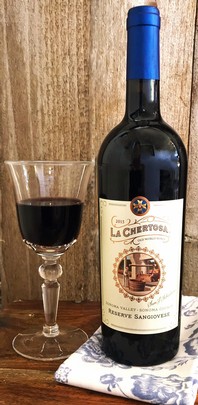 2015 Reserve Sangiovese, Sonoma Valley
This varietal is the premier red grape of Italy's Tuscan Chianti region. It has been the backbone of the great Chianti Classicos since they began.
Sangiovese is generally a prolific producer. However, a three year drought stressed the vines culminating in less production of fruit, but also increasing the flavor. This is one of the most full-flavored vintages in many years.
A grape that loves to flourish, it requires attention to crop loading generally requiring thinning more than once) if depth of flavor is desired. We also pull leaves to access the fruit to dappled sunlight. It loves the environment of warm summer days that prevail in the Sonoma Valley and the Mediterranean.
Fortunately, it is a varietal that ripens at the front end of the harvest season so if we require more "hang-time" to develop richness, we are still in warm weather and are able to wait out the maturation process.
Grapes are sourced from the Wildwood Vineyards in North Eastern Sonoma Valley. Our family has been making wines from grapes grown on this vineyard for almost 100 years.
To increase the breadth of flavor we harvest the Sangiovese (Grosso clone) from two different sites.
Fermented partially in two year+ French Oak barrels and aged in the same for twelve months.
The 2015 Reserve Sangiovese is ruby-red in color, has balanced tannins and the aromas and flavors of slightly tart raspberry and cola. This wine pairs well with many foods and would be a welcome addition to any dinner party.
Only 110 Cases Produced
AWARDS:
Gold Medal, 2018 Los Angeles International Wine Competition
Gold Medal, 2018 Monterey International Wine Competition
Gold Medal, 2017 Denver International Wine Competition
Wine Specs
Appellation
Sonoma Valley, Sonoma County