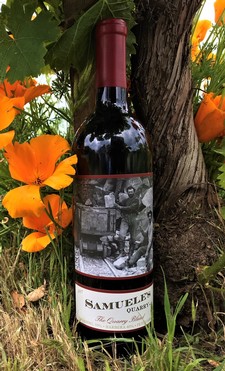 2017 Samuele's Quarry Red Blend
2021 Sunset Magazine Gold Medal Winner!
The crisp 2017 vintage of Samuele's Quarry Red Blend is 59% Zinfandel, 40% Barbera and 1% Petite Sirah. The Barbera gives depth and softens the fruit of the Zinfandel. The Petite Sirah adds additional texture and aging potential. Almost 17 months of barrel aging have added complexity to this vintage. This brick-colored, rustic red wine has hints of ripe raspberries giving way to dark chocolate and will complement any lively flavored food from Prime Rib to Bolognese.
Wine Specs
Appellation
Amador County
Product Reviews
Rick B.
(Jul 22, 2021 at 1:19 PM)
"Micro" Winery - "Macro" Taste……………. This 2017 Samuele's Quarry Red Blend does not disappoint. It's my "go to" for any occasion and with any food. Poured it at my daughter's wedding – BAM! Huge hit with all guests. Appears my hidden VALUE gem has been found though. Just saw this wine got slapped with a 92 rating/gold metal award. Great for La Chertosa – congrats! Bottom line- better get it fast – this 2017 blended beauty won't last.
Carlos r.
(Aug 3, 2021 at 9:50 AM)
Incredible value for a red blend that drinks more like a Bordeaux than a Zinfandel. Wonderful to pair with pasta. A well balanced not overly fruity or tannic wine, softened by the barrel aging. Definitely cannot go wrong with this purchase.
David Alarid
(Nov 12, 2021 at 10:30 AM)
soaring high QPR! This blend was the slam dunk choice for my son's wedding last June and paired perfectly with a savory Tri-Tip...month's later they still mention it. My advice is buy more than you originally thought...you'll be glad you did. Thank you La Chertosa...this bottle is special.
Gia
(Jul 11, 2022 at 9:29 AM)
This is my favorite new wine. It goes with everything! It's easier to drink than a Zinfandel but has the same exciting burst of flavor that I love. We bought two cases!