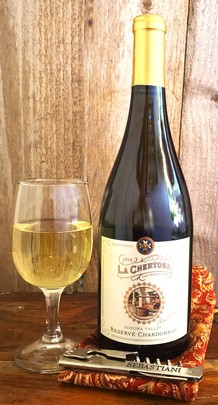 2018 Reserve Chardonnay, Sonoma Valley
This wine is a skillful blend created from fruit from three sites within the red-soiled Wildwood Vineyards. It is 100% Chardonnay, 100% Sonoma Valley and 100% Sustainably Farmed.
The vineyard sites were handled separately, nurtured through two malolactic fermentations, aged independently for ten months in French and American barrels. The wine was brought together at the completion of barrel aging so that an optimal balance of flavors and aromas could be created.
My grandfather, Samuele and my father, August recognized the potential of this soil in small parts of Sonoma County land as having the perfect growing characteristics for premium wine grapes. Red Hill series is prized among winemakers of the world for the extra character it imparts to the wine.
A beautiful straw color with gold tones highlights the wine's fresh aroma, medium body and bright, dry finish. The round, palate-pleasing fruitiness balanced by the crisp acidity of this wine would pair well with rich, creamy dishes.
I have attempted to highlight in this wine's flavor profile, the important features of a classic Old World Style Chardonnay with fruity high notes, soft wood tones running throughout the front, middle and back palate, and a depth of fruit that appears as sweetness but is truly ripe grape character at its fullest.
The previous vintages have won twenty gold medals and the 2018 vintage continues this championship tradition. The finished wine expresses our award-winning style exquisitely.
Wine Specs
Appellation
Sonoma Valley, Sonoma County