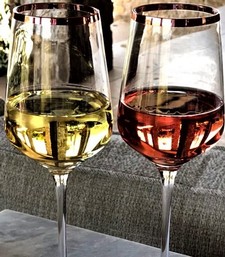 Valentine's Day 2021
Better than a bouquet of roses, is our Eye of the Swan Rosé. The grapes for this Italian varietal, Aleatico were grown in the red-soil of the Sonoma Valley. The wine has a rich fruitiness that plays beautifully with savory flavors such as charcuterie. It offers the perfect balance of fruit, with a fresh, floral overtone.
Gold is a classic gift for your sweetheart. Instead of jewelry, savor a lusciously golden bottle of our La Chertosa Sonoma Valley Reserve Chardonnay. The refreshingly bright, but classic style of our oak-aged Chardonnay is beloved by both drinkers and growers. It is the perfect wine to pair with any romantic meal.
I invite you to enjoy these special wines with your special someone.
Ti Auguro Amore!
P.S. Three bottles each of our 2019 Aleatico Rosé and 2018 Reserve Chardonnay. Retail Price $132.00 less 21% or $105.00. Wine Club Discounts do not apply.