Sam's Caprese Salad with Sangiovese Vinaigrette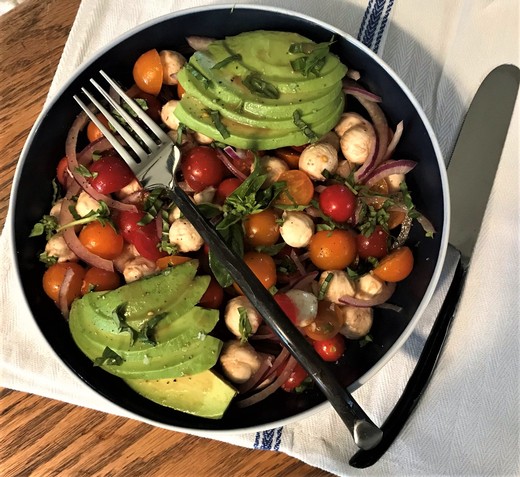 Recipe Date:
July 1, 2021
Measurements:
Imperial (US)
This recipe is a variation of our Zinfandel Vinaigrette combined in a salad with some of Sam's favorite ingredients. This version combines our Don Silvio Reserve Sangiovese with Balsamic vinegar.
Ingredients
1/4 cup Each Extra Virgin olive oil & vegetable oil
2 tbsps Don Silvio Reserve Sangiovese
2 tbsps Balsamic vinegar
1 tbsp minced shallots or scallions
1 tsp Dijon mustard
1 tsp sugar
1/4 tsp Kosher salt
1 Dash of freshly ground black pepper
cherry tomatoes
fresh mozzarella cheese balls
thinly sliced red onion
sliced avacado
fresh basil
More Kosher salt & freshly ground black pepper to taste
Directions
In a jar, combine all ingredients; shake to mix thoroughly. Use at once or refrigerate up to 1 week. Shake again before adding to salad. Makes 3/4 cup dressing.
Combine cherry tomatoes, mozzarella cheese balls, and red onion in a large bowl. Toss with vinaigrette. Add sliced avacado on side. Season with Kosher salt and pepper, garnish with fresh basil.