Italian Sausage & Fennel Kabobs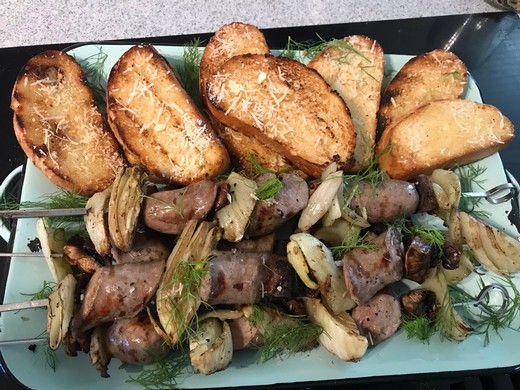 Recipe Date:
June 25, 2021
Measurements:
Imperial (US)
This recipe pairs Italian sausage, fennel and La Chertosa Chardonnay and brings a taste of Italy to you. Simmering the sausages before you grill makes this recipe easy to prepare in advance and grill once it is time for dinner!
Ingredients
1 lb sweet or hot Italian sausages
2 bulbs fennel, tops trimmed
2 cups La Chertosa Reserve Chardonnay
1 tsp fennel seeds
1 tsp dried oregano
2 portobello mushrooms
2 tbsps finest Extra-Virgin Olive Oil
2 tbsps balsamic vinegar
Directions
Pierce the sausages with a toothpick in several places. Quarter the fennel bulbs lengthwise. Place the sausages and the fennel in a medium saucepan. Add the wine, fennel seeds, and dried oregano and bring to a boil. Immediately reduce the heat to low and simmer for 10 minutes.
Remove the sausages and fennel and let them cool. Slice each sausage on the diagonal into thirds. Slice portobello mushrooms in half and then into 1-inch slices.
Alternately thread pieces of sausage, fennel and mushrooms onto 4 or 5 skewers. Cover skewers or transfer to a sealable container and refrigerate until you are ready to grill.
Once your grill is ready, mix olive oil and balsamic vinegar in a small bowl. Brush skewers with the oil and vinegar mixture.
Grill the kabobs, turning once until the sausages are lightly browned, about 8 to 10 minutes.
Serve hot with grilled bread and La Chertosa Reserve Chardonnay.