Nonno Sam's Split Pea Soup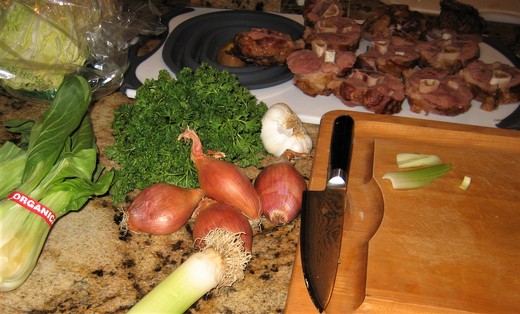 Recipe Date:
May 25, 2021
Measurements:
Imperial (US)
Nonno Sam's Split Pea Soup
Ingredients
2 Extra Large Smoked Ham Hocks
4 Boxes Chicken Stock/Broth
2 Large Onions
6 Cloves of Garlic, Rough Chopped
2 Large Leeks, Cleaned and Diced
1 Bok Choy Cabbage, Cleaned and Diced
1/4 cup Olive Oil
1/2 tsp Red Pepper Flakes
1 tsp Black Pepper, Freshly Ground
1 cup La Chertosa Reserve Chardonnay
1 cup Chopped Parsley
1 cup Grated Parmesan Cheese, Finely Grated
Kosher Salt
Directions
Place ham hocks and 1/2 of chopped onions in a large pot with 2 boxes of the chicken broth. Simmer until meat easily peals off bone. Remove and cool. Take meat from bone and cut into sugar cube size peieces. Place bones back into broth to cook our marrow.
In separate pot, place olive oil, leeks, bok choy cabbage, remaining onions and two boxes of chicken broth. Simmer until vegetables are broken down and transparent. After soft, add garlic, red pepper flakes and 2 bags of split peas. Simmer for 30 minutes or until very soft.
Add meat and broth from marrow bone pot and one more bag of split peas. Cook for 1/2 hour. Add wine and continue to cook slowly. When near the desired consistency add Parmesan cheese and Kosher salt to taste. Add chopped parsley just before serving.
Add butter and/or cream, if desired, prior to serving.