Garlic & Cheese Fries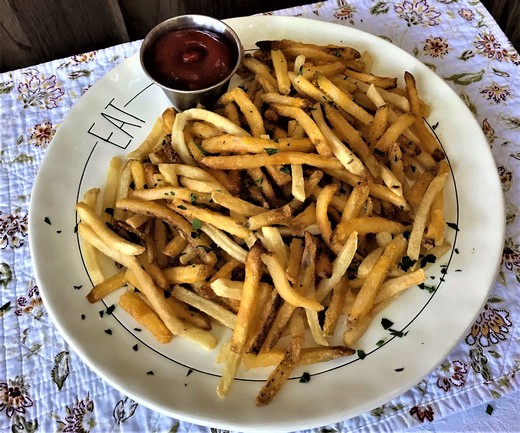 Recipe Date:
June 15, 2021
Measurements:
Imperial (US)
Ingredients
1 bag frozen French-fried potatoes
1 tbsp finest Extra Virgin Olive oil
3 tbsps salted butter
2 to 4 garlic cloves, minced
1/2 cup grated Parmesan or Dry Jack Cheese
1/4 cup Italian parsley, chopped
Directions
Make frozen French-fried potatoes according to package instructions.
While the potatoes are cooking, melt olive oil and butter in a small saucepan. Once melted, added chopped garlic and quickly stir until mixture bubbles. Set saucepan aside until the potatoes are finished.
Once the potatoes are golden brown, transfer to a large bowl. Add with olive oil/butter/garlic mixture and briefly toss together. Add cheese and chopped parsley and toss for a second time. Season with Kosher salt and freshly ground black pepper to taste.
Excellent served with Basil Cheeseburgers!
Use your favorite French-fried, crinkle-cut or steak potatoes for this recipe. Heck, Tator Tots would be great too!