Roasted Pancetta Wrapped Chicken Legs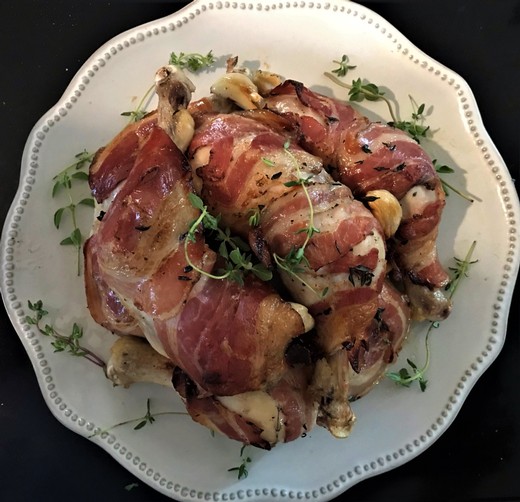 Recipe Date:
June 30, 2021
Measurements:
Imperial (US)
This recipe pairs perfectly with our Eye of the Swan™ Aleatico Rosé!
Ingredients
4 chicken leg quarters (drumstick & thigh)
4 ozs sliced pancetta (bacon)
4 garlic cloves
8 thyme sprigs
finest Extra-Virgin Olive Oil for drizzling
kosher salt & freshly ground pepper
Directions
Preheat oven to 375º F.
Remove skin and all visible fat from the chicken legs. Sprinkle with salt and wrap with pancetta. Place chicken in an oiled baking pan. Add 4 cloves of peeled garlic and a 4 springs of thyme. Drizzle chicken leg quarters with olive oil and bake for 25 minutes.
Garnish with additional thyme springs. Serve with Garlic Butter Crumb Tomatoes and sautéed fresh spinach.