Samuele's Quarry Firecracker Red Spaghetti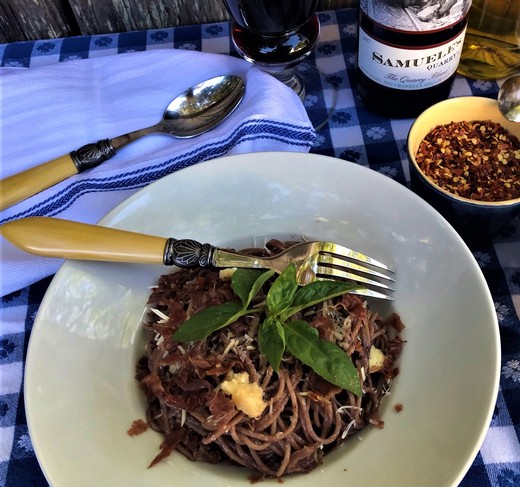 Recipe Date:
June 15, 2021
Measurements:
Imperial (US)
Ingredients
1 750ml bottle of Samuele's Quarry Red blend
6 finely chopped, garlic cloves (About 3 tbsp)
1 tbsp finest Extra-Virgin Olive Oil, plus more for drizzling
1/2 tsp crushed red pepper flakes (See note)
8 tbsps salted butter, cut into 8 pieces
1 lb spaghetti
Kosher salt & freshly ground black pepper, to taste
1 cup finely grated, Parmesan cheese
1 bunch basil, torn or chopped
crumbled, crisped Prosciutto or bacon for topping
Directions
Combine garlic and 1 tablespoon olive oil in a small bowl. Heat a 1 1/2 to 2 quart heavy pot over medium heat; add 1 tablespoon of butter until melted. Pour in garlic and oil. Add 1/2 teaspoon of Red Pepper Flakes. (Note: Start with 1/2 tsp of red pepper flakes, the more you use, the more firecracker there is in the final dish.) Gently cook all until the garlic is fragrant, but not browned, about 2-3 minutes. Add one 750ml bottle of Samuele's Quarry Red Blend and increase the heat to medium-high and bring to a boil. Simmer, uncovered, until reduced by two-thirds, 20-25 minutes; season with salt and pepper. Cover and keep warm. You should have a little more than 1 cup of sauce.
Cook spaghetti according to package directions until very al dente.
Drain spaghetti and return to cooking pot. Add the reduced wine sauce, along with remaining 7 tablespoons of butter. Set pot over medium-high heat and bring sauce and spaghetti to a simmer. Cook, tossing often, until pasta is tender, well-coated and the sauce is thickened; about 3 minutes. Remove from heat and toss with 1/2 cup of the grated Parmesan and 1/2 of the basil. (Reserve 1/2 of the basil for garnish.) Taste and season with more salt and pepper if necessary.
Divide spaghetti among four bowls; drizzle with additional Olive Oil. Top with more Parmesan chesse and crumbled Prosciutto or bacon. Garnish with the remaining basil.
Note 1: If Sam is joining you for this dish, have additional red pepper flakes available to sprinkle on top.
Note 2: If you are serving our Firecracker Red Spaghetti with a salad using our Zinfandel Vinaigrette, you can reserve two tablespoons of the wine before starting the sauce. This sauce is rich enough that you won't notice the missing two tablespoons.
Enjoy!