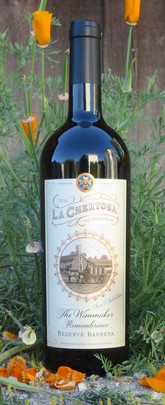 2014 Winemakers Remembrance Reserve Barbera, Amador County
7 Gold Medals + 2 Best of Class Awards!
This wine is in REMEMBRANCE of two 19th Century Italian immigrants to California Wine Country.
The first, Samuele Sebastiani, my grandfather, a pioneering California winemaker who brought his skills to the red-soiled, gently sloping hills of Sonoma Valley in 1898.

The second, the Barbera grape, planted back in the 1800's to accompany the hearty pasta sauces and stews that were a staple to those who worked the vines and the land.

In rather short supply in California, this is a uniquely friendly bold and robust red wine, with warm satin edges and deep fruit tones perfect for any meal where the wine needs to stand shoulder-to-shoulder with the food.

This 100% Barbera is medium-full bodied, garnet in color with bright acidity. It has the flavors and aromas of ripe black cherries, black fig, raspberries and cacao - light tannin with a medium finish. This wine would be great with a rustic terrine, a big burrito or your favorite charcuterie.
Only 168 Cases Produced
AWARDS:
Gold Medal & Best of Class of Region, 2017 California State Fair Commercial Wine Competition
Gold Medal & Best Barbera, 2017 Monterey International Wine Challenge
Gold Medal, 2017 San Francisco International Wine Competition
Gold Medal, 2017 Denver International Wine Competition
Gold Medal, 2017 Winemaker Challenge International Wine Competition
Gold Medal, 2016 Harvest Challenge Wine Competition
Wine Specs
Appellation
Amador County
Product Reviews
Chuck Whitchurch
(Mar 9, 2020 at 8:22 PM)
Above all, this aromatic wine is flavorful. It's bright, fresh and plush, with just the right balance of acidity and sweetness. The lingering finish is as smooth as the beginning, with a pleasant reminder of lightly spicy & subtly fruity notes. I tasted my first bottle of Barbera (by August Sebastiani) back in 1962, and have enjoyed Sam's wine from time to time down through the years. If my memory isn't playing tricks on me, this is the best Barbera yet.