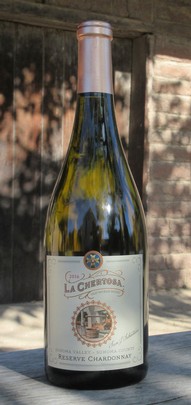 2016 Reserve Chardonnay, Sonoma Valley
18 Gold Medals in 5 Vintages!
La Chertosa Reserve Chardonnay is created from vines located on three different sites with three different clones, on the Wildwood Vineyards in North Eastern Sonoma Valley. The reason for this is to develop layers of flavor due to the site and clonal variation. We select vineyard sites with red soil because the complexities of red soil create a full mouth-feel and depth.
The Sonoma Valley provides the perfect growing conditions for Chardonnay grapes. The cool climate extends the growing season, allowing them to hang on the vine longer and mature slowly with optimum richness of character. A warm year and exceptional red soil produced this delicious Chardonnay from the Wildwood Vineyards in Northern Sonoma Valley.
The finished wine is a brilliant gold color, full body and a complex layer of varietal flavors well-balanced to the toasty oak character. A long, smooth finish makes this a wine to thoroughly enjoy with food.
Our previous Chardonnays have won Gold Medals from the biggest and best wine competitions in California. The 2016 vintage continues this championship tradition.
Only 775 Cases Produced
Gold Medal + 95 Points, 2018 California State Fair Commercial Wine Competition!
Wine Specs
Appellation
Sonoma Valley, Sonoma County