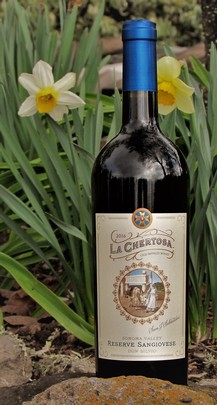 2016 Don Silvio Reserve Sangiovese, Sonoma Valley
Pick Up a Bottle and Taste the History!
The Sangiovese grape was first brought to the Sonoma Valley from Italy in the 1860's. La Chertosa is one of a "few" producers of Sonoma Valley Sangiovese.
We have been making Sangiovese for decades and our source is primarily the Wildwood Vineyards of Northeastern Sonoma Valley.
A Mediterranean variety it is naturally comfortable in the similar Sonoma valley climate and is enhanced by our selection of red soil (iron oxide) vineyard sites.
A grape that loves to flourish, we are cautious to keep attention on crop loading and in some years are required to thin the fruit at least two times. This creates the intensity of flavors, which is also enriched by leaf pulling to ensure sunlight on the fruit.
Sangiovese accommodates the Vintner by being a variety that ripens early in the season. If extra "hang-time" is needed we still have plenty of warm weather left to allow it.
This wine has a charming oak and toast characteristic derived from the French Oak barrels in which it was fermented and aged for 14 months.
The 2016 vintage features garnet color, balanced tannins and flavors of fresh plums. It pairs elegantly with grilled or barbequed foods.
This Reserve Sangiovese salutes my kind Tuscan friend, Farneta Parish Priest, Don Silvio.
Only 98 Cases Produced
Awards:
Gold Medal, 2019 San Francisco International Wine Competition
Gold Medal, 2019 San Francisco Chronicle Wine Competition
Gold Medal, 2019 Monterey International Wine Competition
Gold Medal, 2018 Sonoma County Harvest Fair
Gold Medal, 2018 Denver International Wine Competition
Wine Specs
Appellation
Sonoma Valley, Sonoma County
Product Reviews
Chuck Whitchurch
(Dec 18, 2022 at 9:13 PM)
I've enjoyed Sebastiani Barbera since 1962, when I had my first magical taste of it. Ever since then, it's been my favorite wine next to an unaffordable Barolo. It feels. . . vivid, even cheerful: the high acidity brightens its fruit-forward quality, lightly evocative of dark cherries or blackberries. But it's balanced by just enough soft tannins to keep it from being overly ingratiating. A fairly light wine, it's tasty when just sipping, but also rich enough to enhance the flavors of a range of dishes like pasta, mushrooms, grilled chicken or ribeye. Nowadays my wife and I drink less at a meal than formerly, so we're pleased that unlike many reds, La Chertosa Barbera still tastes sprightly the next day, or even the day after
Monterey International Wine Competition
(Sep 11, 2023 at 3:31 PM)
"Sonoma County legend Sam Sebastiani is having a blast with the La Chertosa label, and he's got a real winner in this return to the roots bottling. Deep cherry, sage, moderate spice, full extraction, supple tannins with good grip throughout, a long finish with great integration - it's all here in spades. I suspect that Sam is as proud of this wine as any that he has made during a storied career. Pick up a bottle and taste the history."