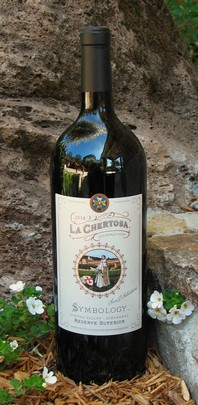 2018 Symbology Reserve Superior Zinfandel 1.5L, Moon Mountain
This full-bodied, velvety Zinfandel from red-soiled mountain vineyards in the Mediterranean-like climate of Sonoma Valley, is the first of my Reserve Superior offerings. It is a wine of silk and satin with ruby depth and black cherry flavor tones.
The grapes for this full-bodied Zinfandel are from red-soiled vineyards located in the select Moon Mountain region of Sonoma Valley.
It is the first of my Reserve Superior offerings. I chose this Zinfandel to carry the name of Symbology because it has been favorite with the Sebastiani Family since my grandfather's time. My father August made it a standard-bearer during his reign at Sebastiani Winery.
2018 was one of the best growing seasons in decades. It began in spring with a near perfect fruit set, which led to large grape clusters that translated into a large potential crop, leading us to enhance the quality by reducing the amount of fruit to reach final ripening on the vine.
In the cellar, we were seeing the benefits of the long growing season with wines that are fully mature, have sweet tannins, outstanding color and brightness, depth of flavor and are naturally balanced. The wine was aged for sixteen month in a single American Oak, Shenandoah barrel toasted to a Medium Plus. 2018 is an exceptional vintage and this is one of the finest wines I have released in 20 years.
Wine Specs
Appellation
Moon Mountain, Sonoma Valley